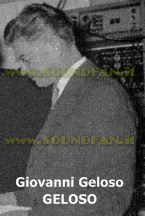 I think few people know or remember the history of this great man not second to Guglielmo Marconi.
Mr Geloso invented many kind of devices someone very in the vanguard for that time (the first prototype of Color Tv, i.e., did you know?) and all the industrial tools and machineries need to build the devices. A real genius.
More: he had a great human side and an the original thought that every people must have the chance to buy his devices. The little Geloso reel to reel recorders became a real budget for quality and low prices and had very large diffusion on the market.
Giovanni Geloso deserves a web page to describe its incredible creative energy and great businessman spirit.

Friends Ezio e Paolo Di Chiaro better than me done a great web site
www.geloso.net
Please have a look to it ! (in English too)