This is very simple!
Standard unbalanced RCA plugs are provided to connect the recorder to HiFi system in usual way. Balanced Canon plugs are provided for semiprofessional or studio recorders. Standard 6,3 mm jacks are for microphones inputs and headphone output for both domestic or professional.
Well, you have loaded reels and tape in right position and plugged the RCA cables in your HiFi system. Lets enjoy the music now.
Ah, . . . don't forget to turn your recorder on
:-)
!
SPE
CIAL EFFECTS
3 heads and 2 independent tracks recorders with the built-in track-to-track transfer facility provide many way for special recording effects and domestic master producing. Here follows a simple description of the main recording effects.
Echo effect.

During the recording the monitor play head reads the information with a 0.34 sec (at 3.75ips) or 0.17 sec (at 7.5 ips) time delay. This delayed signal returned to the recording channel produces the echo effect added to the original signal.
I will try to clarify in simply words.
Basically speaking the so called
BIAS
, in magnetic recording field, is an high frequency signal (usually from 100,000 to 150,000 hz about or higher) recorded on the tape at the same time of musical signal.
This principle, discovered in 1940 by accident,
dramatically improves distortion and high frequencies response of the recording
.
The Bias frequency is always the same but its level has to be adjusted according to different kind of tapes and speed to find the best MOL (Maximum Output Level) with less THD (Total Harmonic Distortion). Please refer to the
TAPES
page for more info about BIAS setting.
So BIAS doesn't have to do with the IEC and NAB equalization curves.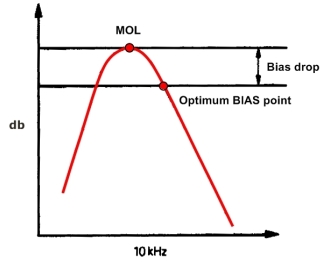 NAB (or IEC II)
and
IEC I
equalization curves are based on the same principle of the most knew RIAA equalization curve used to press and reproduce vinyl discs, but kind and amount of correction is very different from the Riaa one.
The IEC curve adds a slightly de-emphasis at the high frequencies to compensate the increase and distortion of magnetic heads in this range of frequency. NAB curve adds a pre-emphasis to the bass frequency too.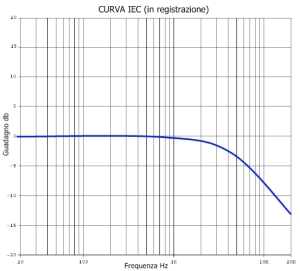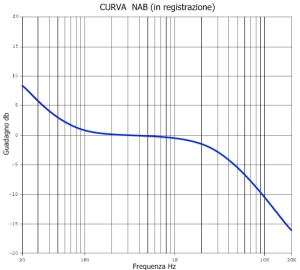 NAB equalization curve was used in US and IEC was used in Europe before they were worldwide standardized in the 60ties as follows:

up to 3,75 ips speed 2 and 4 tracks tapes are recorded according to the NAB curve;


from 7,5 ips up to 30 ips speed 2
or multitrack
tracks tapes are recorded according to NAB curve in US and according to IEC curve in Europe
(there are no 4 tracks machine at high speed)
.
Because IEC level equalization at high speed allows a better S/N (Signal vs. Noise) ratio and dynamic range it is wildly used now in US too for master tape copies and disc cutting.
There is no way to modify the NAB or IEC curves as you have no way to change the RIAA curve in your phono preamp.
Some consumer tape recorder (as Revox A77, some Teac/Tascam model, etc.) and many professional studio recorders can switch to NAB to IEC according to the kind of tape they have to play.
Hope this helped
;-)
NOTE: autoreverse feature
.
Some 4 tracks reel to reel recorders are equipped with the "autoreverse" function which change the tape run direction (by an optical or metal switch) automatically. They play 4 tracks tapes continuously avoiding turn the reels manually at the first side end. These machines are more mechanical complex with 6 heads (3 for each tape direction) and double capstan and pinch roller. They are rarely used in professional field due to the difficult to have them constantly aligned. The reel and tape are loaded in the same way as 3 heads recorder.